I've styled an event or two (…or twenty) in my day and, as this year's Christmas host, I'm pulling out all the stops (and helium balloons) to ensure it is practically Pinterest-worthy in every way!
With a new house and baby (it's been a BIG year…), Josh and I decided to nominate Casa Falco as this year's Christmas abode - because what's one more major event to add to the list!? With this in mind, we have been prepping and planning for a few months now to ensure the place is in perfect condition come Christmas Eve.
From garden prep (Josh) to interior and table décor theming (me), I thought I would take you through our inspiration and styling process to show you how a home can transform into a haute-holiday house… and on a budget! After all, we have to make sure there is enough silly-season spending left over for that Monica Vinader bracelet I have been eyeing off… hint hint Josh!
Inside:
My house is all about the neutrals. Sofa? White. Cushions? Back and white. Bedding? Beige. You get the drift… Like my closet, I play it safe when it comes to colour and, instead, experiment with prints and texture to add personality to my home interior.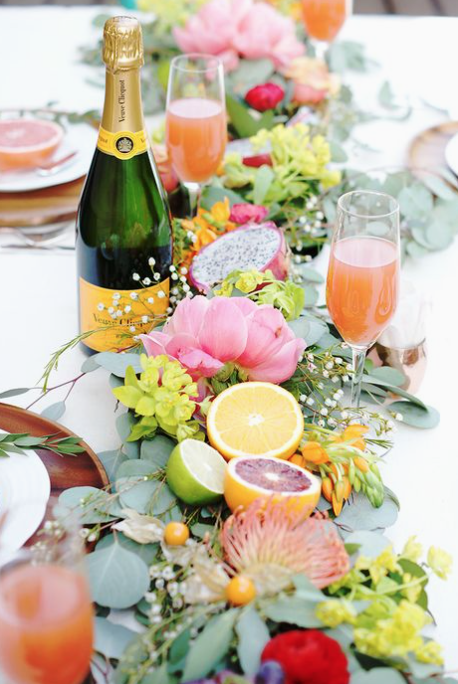 With a white-on-white backdrop to play with, I have decided to inject A LOT of colour this Christmas and have been stocking up on all things pastel and tropical. Taking inspiration from the sunny Queensland weather, I am working with stone fruits, palm fronds and retro, printed Bon Bons (from Kmart) to accessorise my Christmas feast.
Whilst I love my Domain marble place settings, I wanted clean, crisp, white plates and simple silver cutlery so as not to overpower the colourful table spread. Josh and I purchased affordable white sets from Ikea.
The addition of pretty printed napkins (Overflow) and gold-embossed place cards (The Reject Shop) will add a slightly formal flourish.
As for table cloths, I toyed with the idea of having custom ones made however I managed to find EXACTLY what I wanted from Pillow Talk… and on sale! BOOM! Again, please note that it is important to 'balance' the table with some neutral elements (plates, table cloth) so that the fruit, fronds, flowers and food are championed.
While I LOVE the look of a colour co-ordinated tree, mine is anything but… and for a good reason! Every mismatched ornament and decoration on my tree has a story and a history and I love pulling them out every year and reminiscing. From favourite childhood ornaments to personalised baubles and this year's addition of a sausage dog and Santa decoration (in honour of Chilli and Oscar of course – thanks Grandma!), our tree becomes more eclectic and special as the years go by.
Presents, however, are a different story! In keeping with this year's theme, I've purchased some colourful paper, ribbon, baubles and cards (all from Kmart) and I am mixing and matching for an 'over the top' effect.
As a final and extra-fun touch, I found these oversized, helium, confetti balloons from a boutique in Clayfield and will be blowing these up and filling the dining room with them for a little extra 'wow' power.
Florals always play a big part in my event styling and I will be paying a visit to the Hendra Flower market to stock up on colourful and seasonal blooms. Please note that when it comes to florals, more is always more! I'm mixing it up this time and keeping my Christmas table "fruity" rather than "floral" so these bunches will be decorating every available coffee table surface instead.
Outside:
Similar to the house, our garden has undergone a festive makeover with the installation of fairy lights (white though, I'm sorry but I just CAN'T do coloured fairy lights), outdoor cushions and a pop of colour in the form of potting and plants.
Sunflowers, lemon trees, beautiful blue pots and an oversized star light have transformed our outdoor area into an entertainment area. My darling husband has spent many, many hours turfing and returfing the back garden, maintaining the hedges and installing our very own veggie garden complete with home grown strawberries, peppers, carrots, beans, basil and rosemary. With the recent extension of our patio and the future installation of an outdoor cinema, we're hoping to spend more time outside than in.