Seven months in and no "Maternity" purchase in sight…
As a stylist, I was excited for the challenge of dressing a growing bump! Lara Worthington, Rachel Zoe and Kourtney Kardashian #nailed their pregnancy wardrobes and, despite the fact I don't have access to designer clothes, personal trainers or million dollar bank accounts, I was confident I could too.
The thing is, it's not just dressing a growing belly that proves difficult - my expanding butt and boobs continue to remain a wardrobe challenge where "strapless" and "shorts" are no longer in my fashion repertoire.
Researched and organised (and fit) as I thought I was, nothing truly prepared me for my new pregnancy body. My skin has changed (blotchy), body parts are bigger (and are continuing to grow) and items of clothing that used to be comfortable now strangle my unborn child or swollen ankles. Not ideal.
As a Mum-to-be with a penchant for high waisted palazzo's and statement heels, I've had to rethink, reorganize and revive my current wardrobe to ensure every pregnancy outfit is both fashionable AND comfortable… and I NEVER thought those words could be used in the same sentence!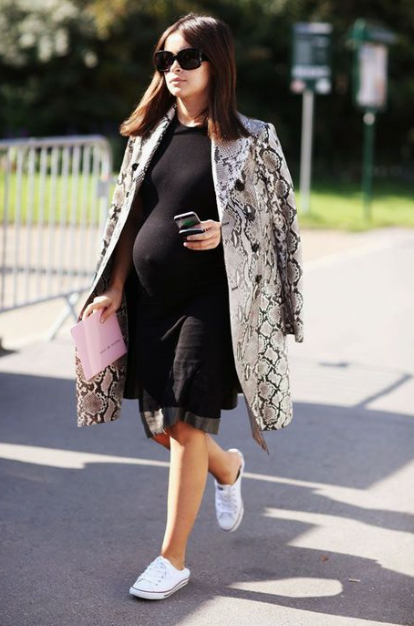 With a few, clever styling techniques; strategic silhouettes; carefully placed layers and a rubber band or two, I've managed to avoid the dreaded Maternity Section entirely. In fact, the only wardrobe additions I've succumbed to over the past few months have included three stretchy Kookai dresses; 2 pairs of Cotton On tights and a blazer (sorry Josh but not even a baby bump will slow this shopaholic down!).
By popular demand, I've decided to curate and share these nifty little Maternity tips for my fellow Mumma's, Mumma's-to-be and those who are simply curious!
Below you will find my tried and tested styling tricks that will help you look sharp and chic despite carrying a pumpkin-sized human in your uterus… just don't ask me about diapers or co-sleepers because when it comes to actual "baby stuff" I have no idea what I'm doing!
Skinny Jeans + Leggings
At 7 months pregnant, there's nothing "skinny" about me but with an expanding waist and bust line, my legs are about as small as it gets. Styling is all about proportions so balancing the bump is key. Pairing long-line tops, oversized tees and shirt dresses with leather leggings, skinny jeans or tights has made for the perfect combination where loose (read comfortable) tops are dressed up and slimmed down with texture, leather or rips.
Layering
Layering is a styling technique I've always employed in my day-to-day dressing however the way in which I layer has dramatically changed. In an effort to lengthen my body, scarves are worn long and loose; sleeveless vests are on high rotation and my collection of blazers, leather jackets and capes have been given a solid work out. Given basic tees and button-up shirts are about all I can fit into at the moment, winter layers have allowed me to "dress up" as well as "shape up" where streamlined silhouettes and a chunky boot detract from The Bump.
Statement Accessories
Anything to attract attention elsewhere! Oversized earrings, fedoras, chokers and statement flats have been my calling card of late… and are a fun way to shop without moving up a size. My clothing colour palette of black, navy, grey, denim and white leaves PLENTY of room for accessory creativity so my credit card has made good friends with hats, brogues and jewels. Again, avoid pendant necklaces or arm cuffs that sit on or around your bump and, instead, invest in chokers, chandelier earrings and statement flats that accentuate your smaller areas.
All About the Hips
… because I no longer have a waist. This was probably the hardest adjustment to make and negated almost 80% of my wardrobe. With an ever-expanding waistline, I've had to draw attention to my hips with belts, drop-waist dresses and strategic gathers. Loose or flexible materials work best and remember to keep it slim and simple on the bottom so as not to overwhelm your overall look.
The Rubber Band
A nifty little trick that STILL allows me to fit into my skinny jeans! I can no longer do up my pant buttons so a rubber band or headband slipped through the loophole and knotted around the button has my situation sorted. Bear in mind this look does require a long top or shift dress worn over pants.
Prints
A fashion optical illusion! When you fall pregnant, prints and patterns should become a regular in your wardrobe as they divert attention away from your bigger parts and blend in with slimmer parts. PLUS they hide wrinkles, spills, creases and dirty little handprint marks…