On your marks; get set; go! Shopping Season is now in session and I'm going to take you through the "do's" and "don'ts" of Sale items.
Ahhhhhh my favourite time of the year! Holidays, fairy lights, Panetone treats and Summer sales! As a professional stylist, my job is to scour the fashion market for chic yet economical pieces that will both update your wardrobe and stand the test of time. My job sees me spend A LOT of time both in the shops and researching online so, by the time December rolls around, I am perfectly prepped and ready to hit the sales and pick up investment pieces at a fraction of the price.
Starting at one of my all-time favourites, Sass & Bide, I visit the 'basic tee/ singlet' rack and purchase both black and white pieces for around $50 each. I LIVE in these staples and find they last me for years (I've only JUST thrown out my 5 year old Sass & Bide singlet as it had holes in it!).
I love the loose fit and deep V-neck (super flattering) and the 'lived in' material works well with both denim and silk palazzo pants. You can purchase online via the Sale tab OR hit up the Westfield Carindale Pop Up boutique, which exclusively stocks sale pieces. I also picked up a pair of statement silk shorts to get me through the heat. The elastic waist equals comfort and the angled hemline equals cool.
Next, I turn to One Teaspoon to re-stock my denim 'drobe! This year I purchased a pair of mid-length, distressed denim shorts for 50% off! I would have bought more but majority of the styles had already sold out. Decjuba served up a more "classic" pair of denim shorts at 20% off and Zara was my go-to for a pair of skinny-leg cropped jeans (slightly distressed – just the way I like them!) as well as an on-trend pair of frayed 'Mum' jeans for approximately $40 each. Tick. Tick and Tick! Side note – I've bought a lot of jeans in my time ranging from the expensive (Sass & Bide, True Religion, Ksubi) through to the not so expensive (Cotton On, Country Road, Topshop, Zara) and I've found that both Topshop and Zara deliver the comfiest and coolest denims around.
Moving on to accessories… I went a little crazy on shoes this year as the 'Mum' within me demanded more comfortable flats (my collection is top heavy in heels!). Country Road helped me again this round with two pairs of discounted slides. The first pair: a new season tan, buckle slide and the second provide more of a statement with woven and frayed detailing. Both purchased at 25% off thank you VERY much! My first EVER Net-a-Porter purchase came in the form of a pair of Topshop x Net-a-Porter collaboration loafers (30% off over the Christmas period) and I also purchased some simple, white sneakers from Seed Heritage – on sale for $89.95 PLUS a further 30% off. #winning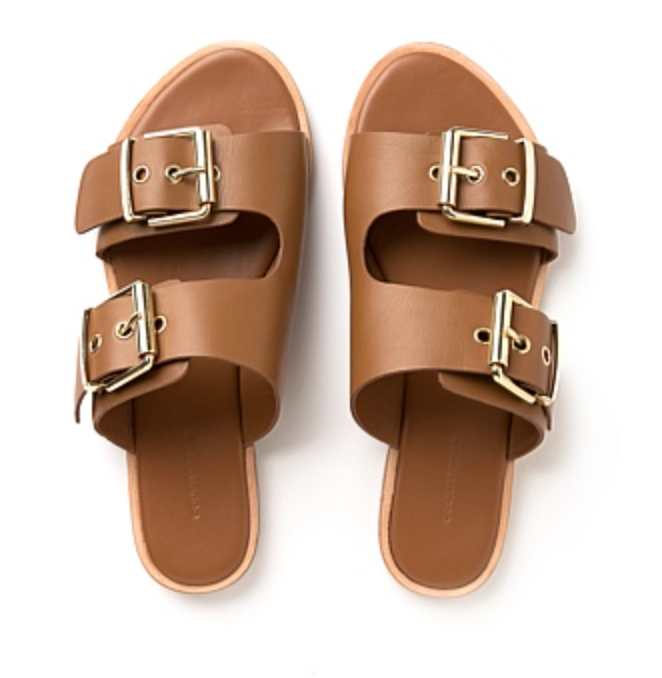 I've decided that this is the year of the belt (#watchthisspace for a S/S17 trends forecast blog post coming soon to The Style Formula!) and found a leopard print, pony hair belt from Witchery for just $15. I also added to my fedora collection with this black straw and pom pom creation (also from Witchery), which was a present from my Mummy.
In summary, I have to say that this year's haul was an economic success where major wardrobe gaps have been filled – without completely emptying my wallet! If you are clever enough to stock up on good quality basics and replace worn out items during the Silly Season, you'll find there is plenty $$$ left over for a special new season piece… and on that note: watch this space for my Birthday Haul coming to the blog soon.