A breakdown of this season's hottest trends, brands and beauty buys from my "second home" aka Westfield Chermside!
Since the redevelopment of Westfield Chermside, I have spent A LOT of time working with styling clients as well as pulling/ returning fashion from this centre. With brand-spanking new interiors; the addition of premium new fashion retailers including Scotch & Soda, Furla and Alice McCall; as well as the recent unveiling of their delicious new dining precinct, it's no wonder everyone wants to eat, shop and play at Chermside.
Ironically enough, while most of my work week is spent in the shops, that time is usually dedicated to someone else's sartorial needs so after a huge month of all work and no play, I decided to #treatyoself to a day of splurging at my local.
After many hours of new season research, sampling eats and countless coffees, I've managed to condense my findings into "where to" categories below where bags, burgers, beauty products and beyond are all covered.
It's a tough job but someone has to do it…
Enjoy! X
Where to go for: a coffee hit.
My "me" day started at Westfield's Greenwood and Harvey Cafe with a double-shot cappuccino… and a sneaky 'gram of their extra cute coffee cups!
Where to go for: on-trend pieces worth your $$$.
I came for the gorgeous interiors, but I stayed for the green palazzo pants. WHAT A FIND! Green is THE colour of the Spring/ Summer season and these Scotch & Soda pants are the perfect way to reference a trend without being too "trendy". If you're a regular reader/ follower of mine then you already know I can't resist leopard or stripes so the printed, button-up shirts were a no-brainer. In fact, that's the perfect way to describe Scotch & Soda: A No-Brainer. Go in clueless, come out chic AF. Throw in the satin bomber and the floaty, print dress and you've got yourself a winning wardrobe.
Where to go for: a statement clutch.
I have a long history with Mimco – it was my first ever fashion job and I also spent a year in London launching the company so I have a solid connection and appreciation for their leather and aesthetic.
It was a tough choice between this one and the backpack (go figure, I'm nearly 30 and all I want in life is a cool backpack!?) but this metallic hip bag won me over with its' edgy details and compact size. With the Silly Season fast approaching, I figured now was a good time to invest in a cocktail carry-all and this little guy ticks all of the boxes: fits the necessities (phone, cards, lip balm, snack for Oscar); works with all outfit options; and packs a pretty punch.
Where to go for: lunch.
Betty's Burgers. Need I say more?
Where to go for: youthful, glowing skin.
With the big 3-0 FAST approaching, I have become more and more conscious about wrinkles, particularly on my forehead, so I decided to do my research and try out some of the most hyped anti-aging and illuminating products available at Mecca Maxima.
I asked around, Googled and YouTubed for days before finally deciding on cult items Sunday Riley Luna Sleeping Night Oil, the By Terry Cellularose Brightening Serum (in Sunny Flash) and the Mecca Max Bring on Bright Illuminating Primer.
I will be doing a more in-depth review on these products in my next blog post (#watchthisspace) but it's safe to say these three "must haves" live up to the hype so far.
I was lucky to score the By Terry Serum as it is often sold out online… and for a good reason! I'm already using less foundation and concealer and my skin has never looked more bronzed or dewy. Thanks to this product I've eliminated a good 5 steps from my morning make up routine #winning.
The Mecca Max Illuminator was sold to me on the basis of the sales assistant's skin alone – holy wow! Seemingly pore-less and glowing from within, she was a vision of health and apparently this is her secret weapon. Did I mention the smell? HEAVEN!
Last, but not least, the Sunday Riley Luna Sleeping Night Oil made its' way into my shopping bag after reading countless rave reviews (and even more rave reviews came flooding in after I posted this product on my Insta-stories). Containing retinol, which is apparently one of the only ingredients scientifically proven to reduce the physical signs of ageing, this facial oil promises to smooth lines, reduce pigmentation and correct sun damage.
This product requires patience (can take up to 4 weeks to see results) and slightly deeper pockets, but I'm about a week in and am already starting to see signs of progress. Depending on the level of "damage" to your skin, the oil may cause red spots but I'm promised this is the product working to correct troubled areas and funnily enough, my forehead (#1 problem area) is already home to a few red spots! As the mornings pass, I am seeing firmer skin and smaller pores so I'm excited to see how this product tracks.
I'll report back in a week or so with the progress of my Mecca Maxima haul!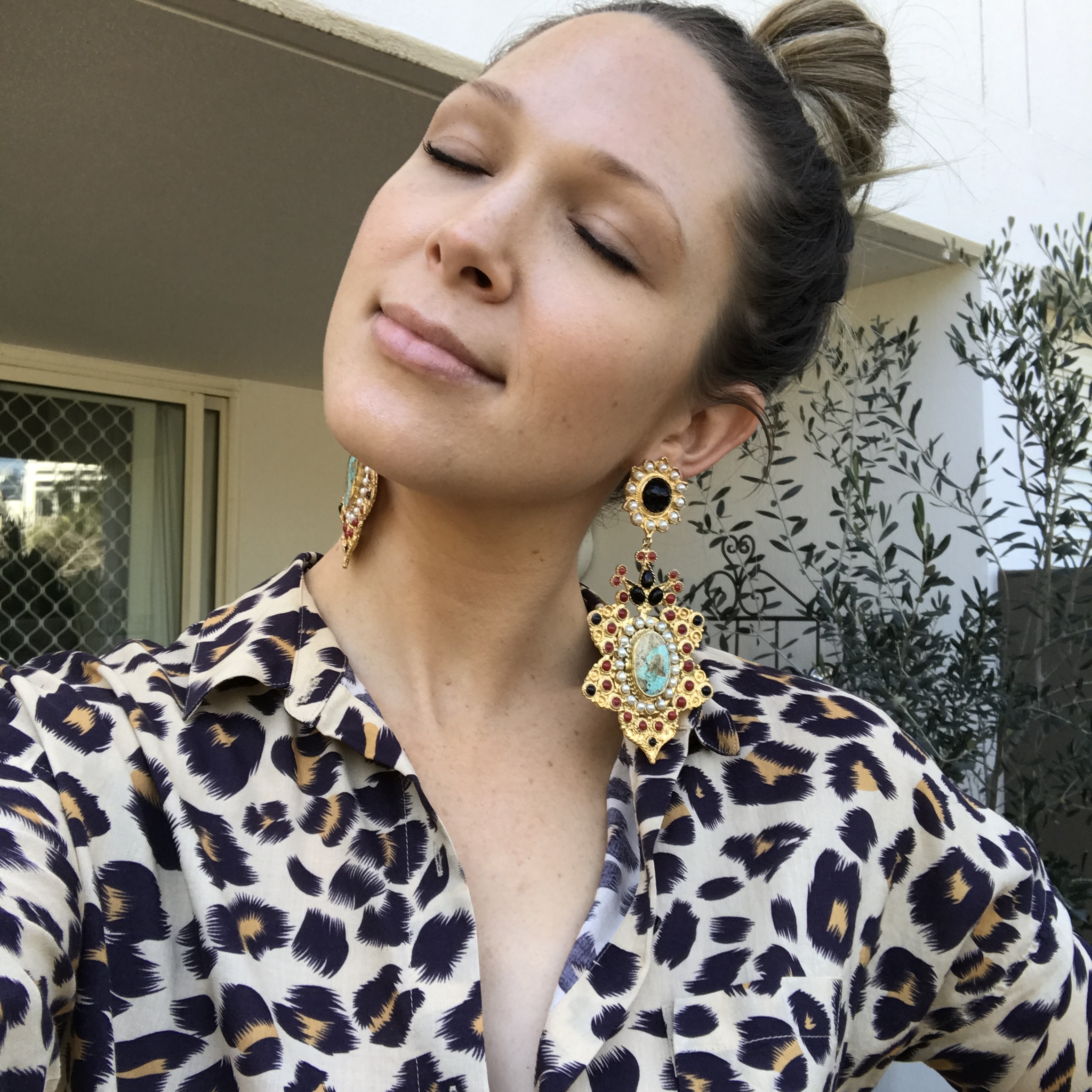 By Terry CC Serum + Mecca Max Illumination Primer +concealer + bronzer